Office Furniture Assembly For Your Workplace In London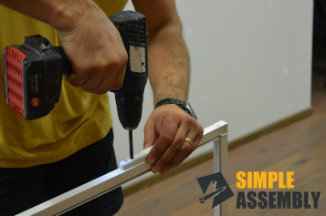 Designers are often hired to handle the interior spaces of big companies. But when you don't feel you need help from such a specialist, you are faced with the various problems of your office's inner look. For starters, you'll have to choose every single detail from the colour palette to the type of furniture you'll be using. While domestic furniture tends to be more difficult to get by, because of its high variety, office furniture can also prove to be a challenge, especially if you don't know what you're looking for in a city as London. But the worst part about your office furniture is the actual assembly, and not because you can't do it on your own, but because most instructions only confuse you, rather than provide you with a quick way to assemble each furniture piece.
The Types Of Office Furniture We Can Help You With
The furniture assembly specialists can handle any kind or brand of furniture:
| | | | |
| --- | --- | --- | --- |
| Desks & Tables | Bookcases | Shelving units | Drawer Units |
| Chairs | Storage cabinets | Workstation | |
Desks: Regardless of the design and size - we can assemble it!
Chairs: Even though chairs are easy to assemble, there are still some designs that require more attention and we know how to handle them!
Shelves: You need to put up shelves, on which you want to place books, plants and decor - not a problem!
Cabinets: If you need cabinets for file and documentation storage, we've got you covered!
Cupboards: Need a place to store your mugs? We can easily put together any cupboard!
*Keep in mind the specialists are not able to collect and deliver items that are not office furniture. Any other loose small items must be purchased by you.
What Else Can Our Office Furniture Assembly Service Offer You?
Aside from receiving an exceptional office furniture assembly service from by professional flat pack specialists, you can:
Book your service at any given time, regardless if it's during the weekend or in the evening
Contact us whenever you want, as our service hotlines are open 24 hours a day, 7 days a week
Benefit from the furniture assembly exceptionally low range of prices
Take advantage of our outstanding customer support
Receive your furniture deliveries quickly, thanks to the top-notch vehicles the furniture assembly experts use
Let Us Handle Your Office Furniture Assembly In London
We can guarantee you all your furniture pieces will be put together and placed in their proper place by professional office furniture assembly experts. The flat pack specialists can quickly make use of any flat pack manual and can have your office furnishing built and ready for use in no time!
In addition, the flat pack experts being able to handle any type and brand of office fitments, they can also go and do your shopping for you! You don't have to spend hours upon hours, wandering through endless aisles of furniture in retail stores - just call us, specify exactly what you need and the staff will make sure to retrieve it. Rest assured that we will contact you if there are any bumps along the way, such as alternative choices you might have to make.
But that's not all, after each furniture piece is bought, it will be brought straight to your office space and quickly put together. You can rely on flat pack montage professionals to help you with each step of your London office furniture assembly service!
Arrange Your Office Assembly Service By Contacting Us Today!
Get in touch with our operators by calling 020 3404 5905 and make the arrangements for your London office assembly service. You'll receive all the information you'll require and, should you have any questions, our staff will make sure to provide you with the answers you need. They'll also give you a free and exact quote, which will be based solemnly on your individual needs.
As an alternate booking method, you can choose to use our quick and simple request form, which you only need to fill in and send to us, before we can contact you with further information on your service.